My love of dogs started over 20 years ago with the purchase of Morgan, my first Bouviers de Flandres.  I was enamored by this breed and have since enjoyed having a couple of them in my household.  In time it became apparent that I needed to move to a smaller breed and researched the English Cocker Spaniel.  In 2010 I made the decision to move to English Cocker Spaniels. In May 2019, we lost Sophi to Pancreatitis and Kidney issues.
Decision was made that I needed another Bouvier and in Oct 2022 we added Oscar to our family:  Boyero Yield to Temptation is an absolutely delightful Bouvier Puppy.
Back in 2010 I brought in our first English Cocker from the US and loved the breed so much decided to bring in a second from the UK.  And in 2016 I went to Crufts and while there visited three Kennels and fell in love with the Kyna lines and a few months later brought in a third from the UK, Kyna Silkweaver.
Before deciding to breed, the dogs were fully health testing and are in the CHIC Database.  The puppies are whelped and raised in my home and are well socialized.  I hope to share my puppies with family homes, breeders, exhibitors and performance enthusiasts.
I am a member of the BC Cocker Spaniel Club, English Cocker Club of Canada, the Canadian Kennel Club, and the Dumbbell Obedience Club.  As well, I actively participate in these clubs:  I am the President of the BC Cocker Spaniel Club.
If you are thinking of bringing an English Cocker into your home, I would be happy to share my knowledge with you about this versatile dog.

Visitors are welcome by appointment.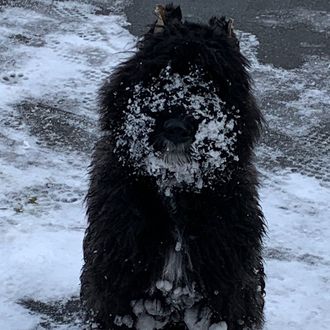 Oscar - Boyero Yield to Temptation